Online Community Map – Wenn das Social Web eine Karte hätte…
Bei einer Reise durch die sozialen Netzwerke kommt einem manchmal der Gedanke, es handle sich wirklich um eine Reise: Große und kleine Nationen, verbunden durch Pfade oder Hauptstraßen, thematische Inselgruppen oder ein riesiges Festland. Für den Start ins Wochenende haben wir zwei passende Weltkarten (von xkcd.com) für diese Reisen herausgesucht.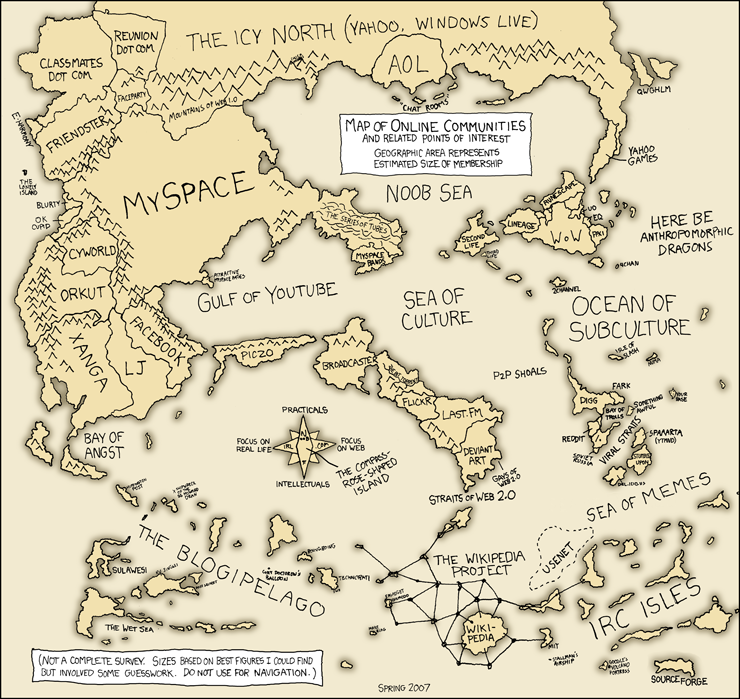 2007 sah die Welt noch übersichtlich aus. MySpace ist eine riesige Nation (wer kennt oder benutzt dieses Portal heute noch?), Friendster ist größer als das kleine Facebook-Reich, selbst Lifejournal ist eine größere Konkurrenz für den heutigen Riesen. Springt man nun drei Jahre weiter…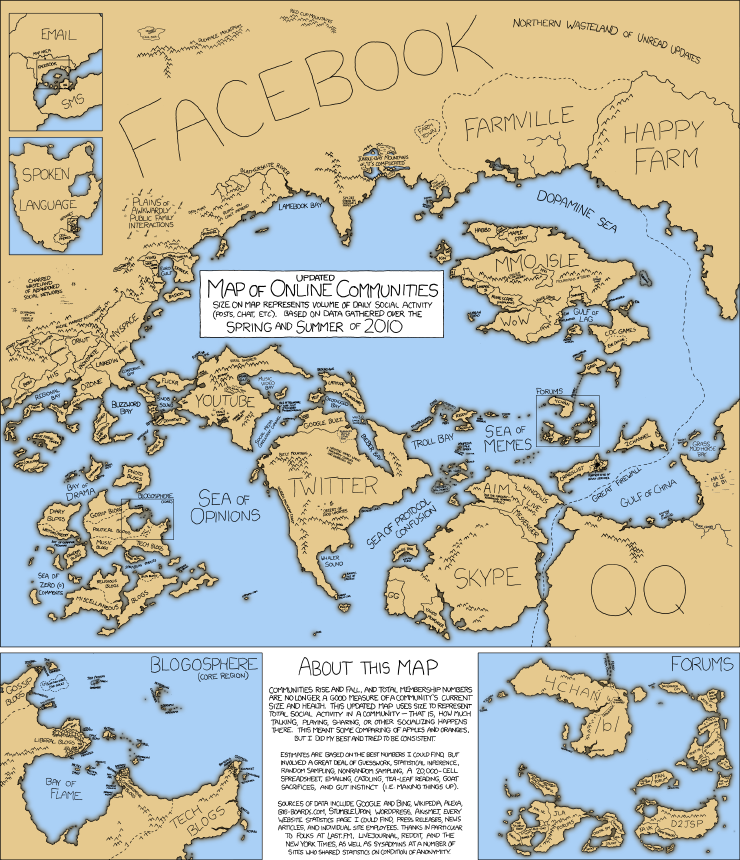 … landet man in der deutlich komplexeren Karte von 2010, in der sich Facebook als Gigant des Web 2.0 etabliert hat und sogar schon Provinzen besitzt ("Northern Wasteland of Unread Updates", "Plains of Awkwardly Public Family Interactions"). Twitter ist eine riesige Insel zwischen Youtube und Skype, im Gulf of China liegt QQ, der große chinesische Instant Messaging Service. Foren und die Blogoshere werden extra hervorgehoben.
Wie würde die Karte für Ende 2012 aussehen? Facebook ist auf die Milliarde gewachsen und nimmt mittlerweile wahrscheinlich den ganzen Norden ein, Pinterest und Instagram würden eine bemerkenswert große Insel bilden. Andere Dienste sind mittlerweile verschwunden oder neu geboren worden. Die humorvolle Darstellung als sich wandelnde Karte der Online Communities ist eine recht anschauliche Möglichkeit, die Gewinner und die Verlierer im Social Web zu definieren – und interessanter zu lesen als so manche Infografik.